Is a prescription required to purchase a CPAP machine?
Yes, a valid CPAP prescription is required for a CPAP machine purchase. Email your prescription to shop@cpapmachines.ca with your order number. Failure to supply a valid prescription within a reasonable timeframe (2-3 days of order) may result in the cancellation of your order. We do not reserve machines for orders without a prescription. A prescription is not required for CPAP masks, parts, or accessories.
What is a CPAP prescription?
Instructions written by a medical practitioner on a medical letterhead authorizing a patient to be provided medication or treatment. A prescription includes:
Patient details (ex. name, medical conditions etc.)
A medical professional (a physician) contact information and signature
A prescription must meet legal requirements (includes the date, state of CPAP therapy, pressure setting or specific instructions pertaining to treatment)
Other documentation (sleep requisitions, sleep assessment forms, insurance pre-approvals) are not prescriptions and will not be accepted. Example of prescription below: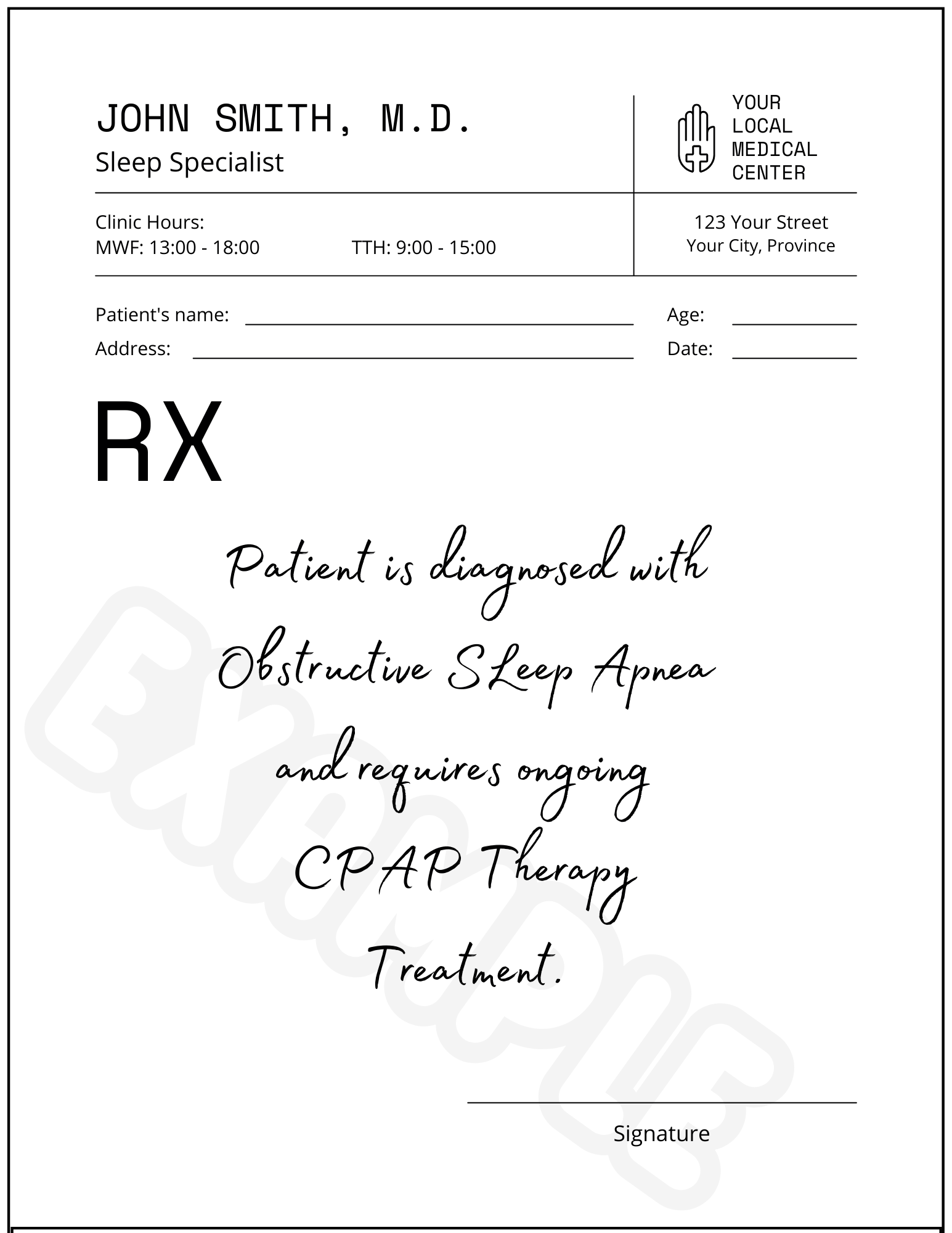 How do I get a prescription?
Consult your physician or sleep specialist and complete a Sleep Apnea diagnosis. Your doctor will prescribe treatment upon diagnosis.
Do you work with insurance providers for CPAP Equipment?
Yes. Most insurers require you to show a prescription for your medical condition. In addition, they want to see the purchase receipt to treat the condition. Check with your insurer on what is covered. Once a purchase is made, submit the appropriate documentation along with your purchase invoice to your insurer for reimbursement.
Do you bill insurance directly for CPAP machines?
CPAPmachines.ca does not submit claims on the customer's behalf. Customers are responsible for providing and submitting appropriate documents for their own claims.
Requesting CPAPmachines.ca to sign Insurance forms
Select insurers prefer customers to work with hands-on, clinical providers who offer sleep monitoring and compliance reports with you one-on-one. As an online vendor, CPAPmachines.ca does not provide downloads or compliance reporting to our customers. Because of this, we are unable to sign your Insurance form confirming we offer those services. Please visit a local CPAP establishment that can provide those services for you.
Do you supply quotations for insurance?
Yes, quotes are instantly generated on our website. See details on how to generate a quote here.
Are you part of the Ontario 'ADP' Program?
We are not an ADP-authorized vendor. To access ADP funding, visit a local CPAP vendor with a storefront, they are authorized ADP vendors. See more on provincial funding by province here.
Are you a part of the 'Assignment of Benefit' Program?
We are not. Customers must pay in full for all orders and submit their own invoices to their insurance provider.
What information is found on an invoice?
Your invoice will include:
Customer's personal, billing and shipping information
All items bought (itemized, if applicable)
Notes (if applicable)
Shipping fee (if applicable)
Total amount
Total paid including a 'paid-in-full' stamp
CPAPmachines.ca logo and contact information (phone, email and address)
Click here for an example of an itemized invoice and a machine package invoice.
Can you change my name on my order invoice?
For accuracy and insurance purposes, order with the intended customer name only. Do not use your spouse's, parent's, or friend's name for orders. We do not alter names on invoices. Send a request to shop@cpapmachines.ca with your order number for cancellation and you can replace your order with the correct information.
Is a prescription needed to buy an oxygen concentrator?
Yes, a prescription is required. Email the prescription to shop@cpapmachines.ca with your order number. Failure to supply a valid prescription will result in the cancellation of an order.